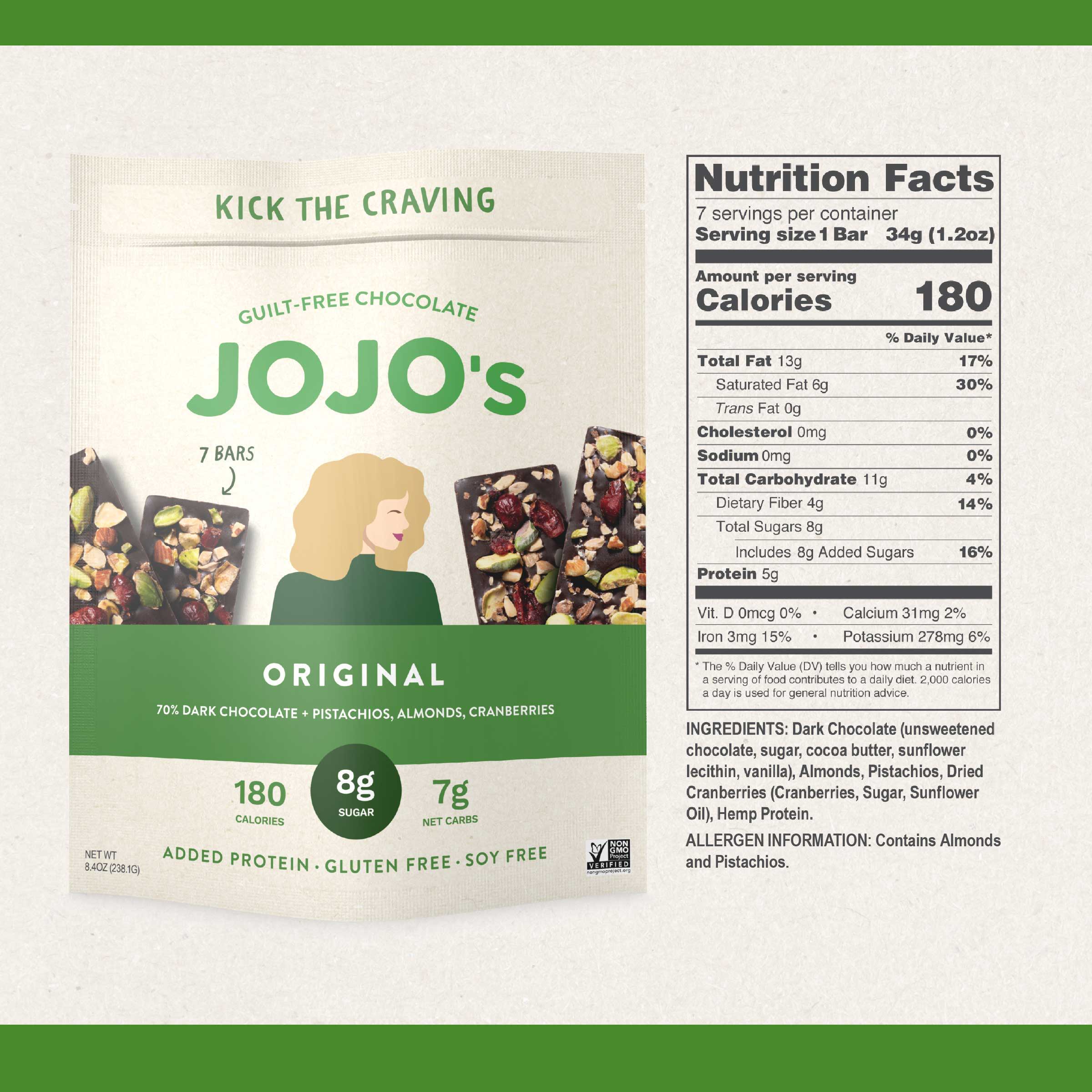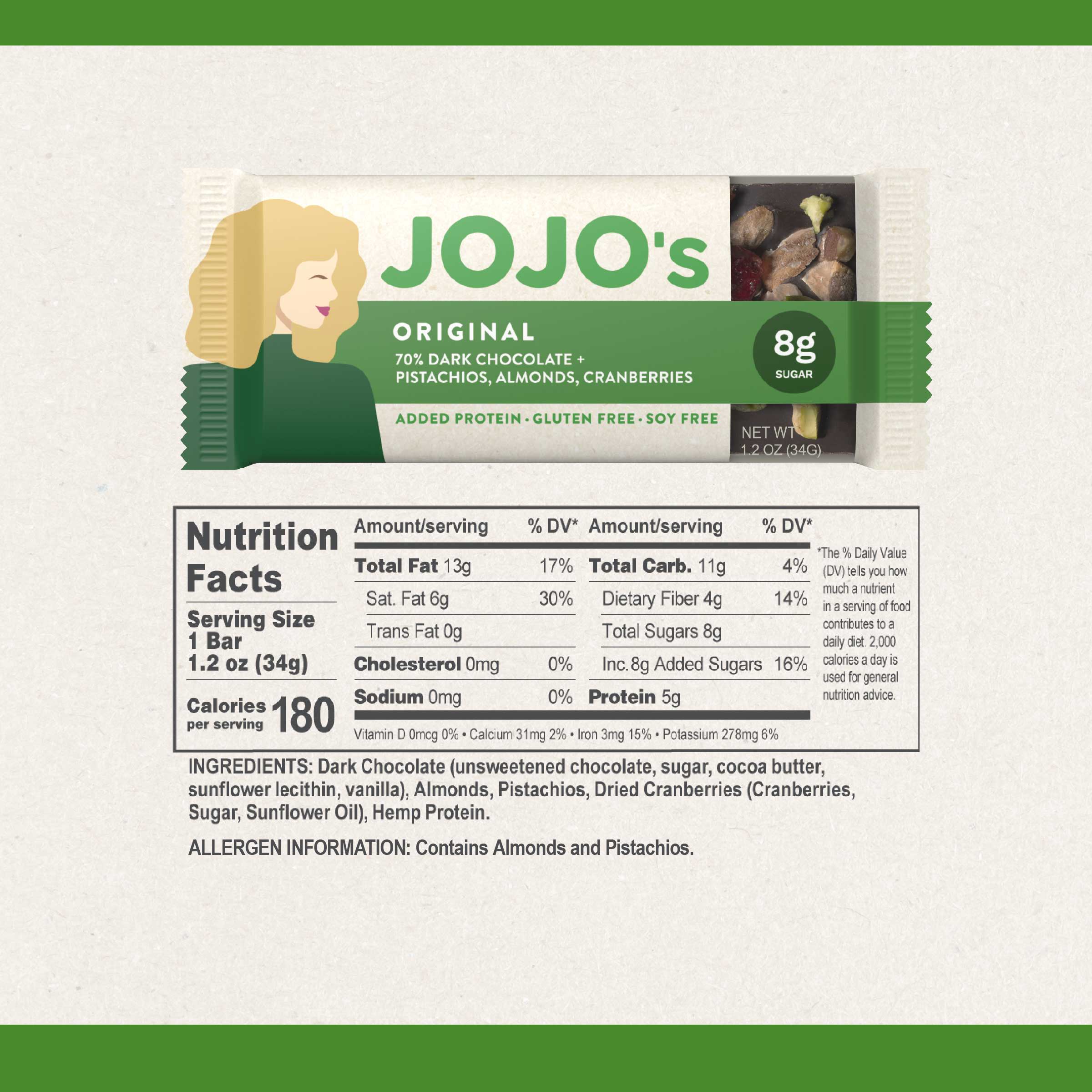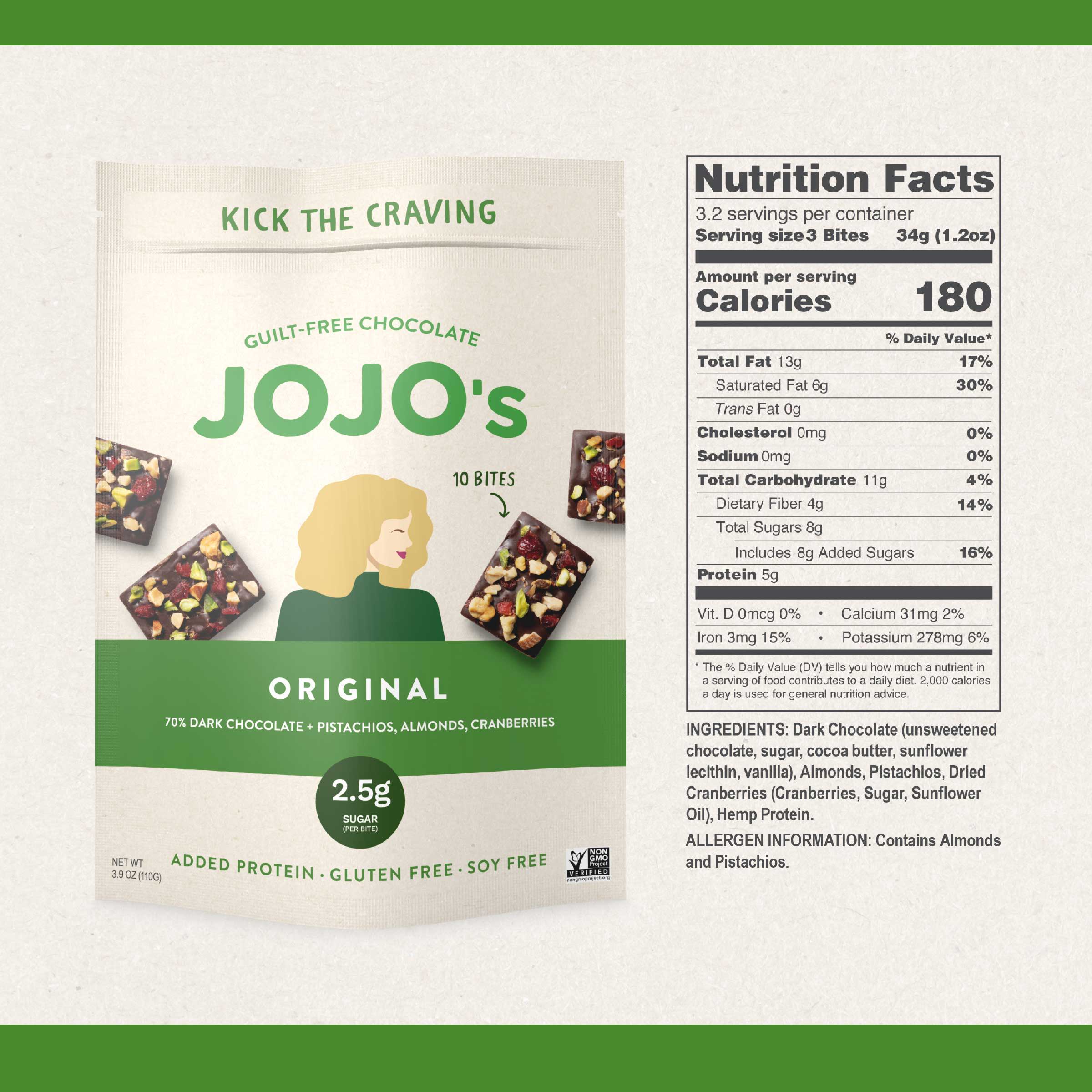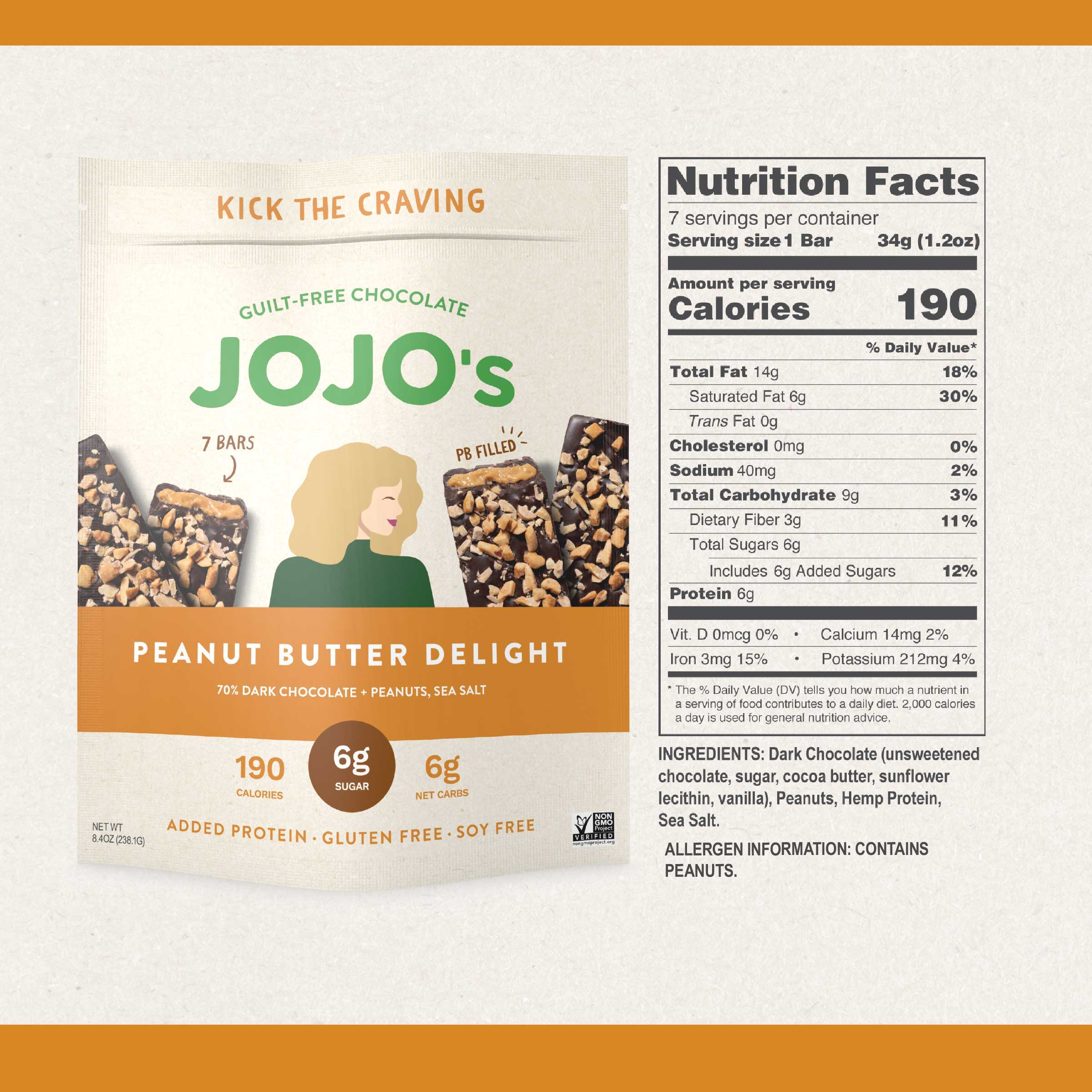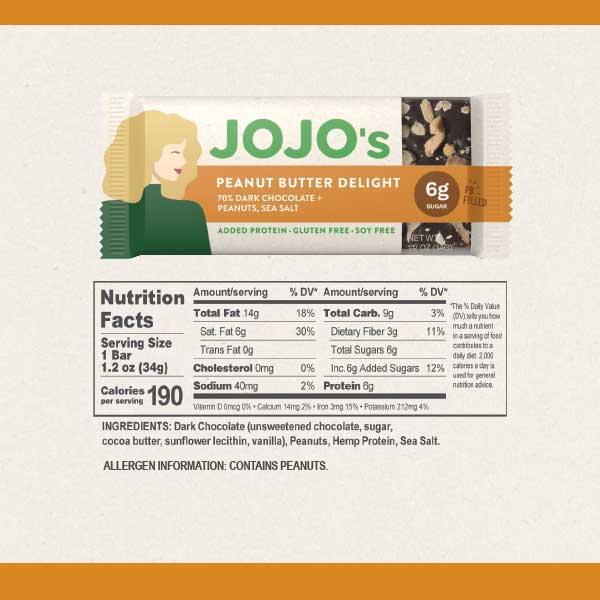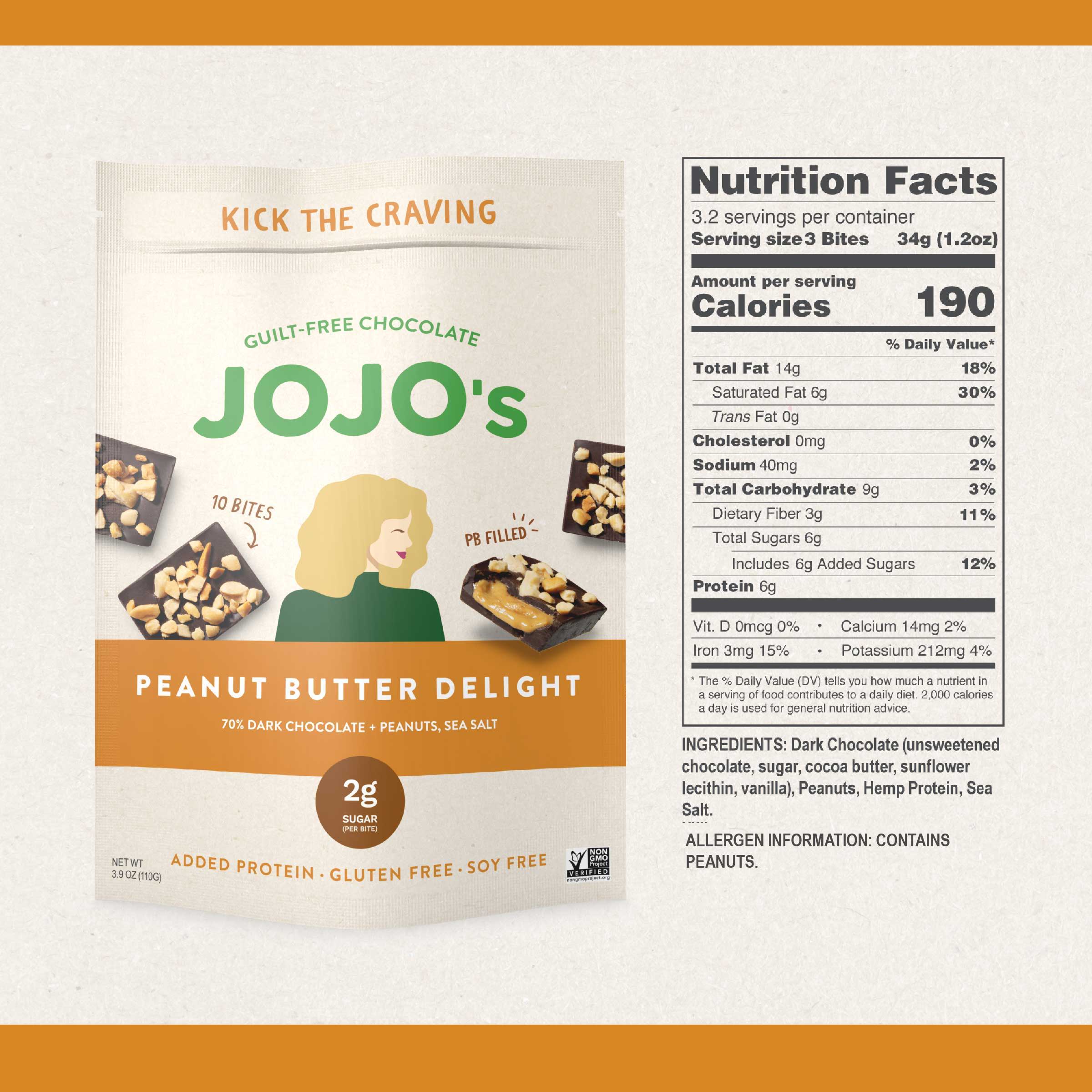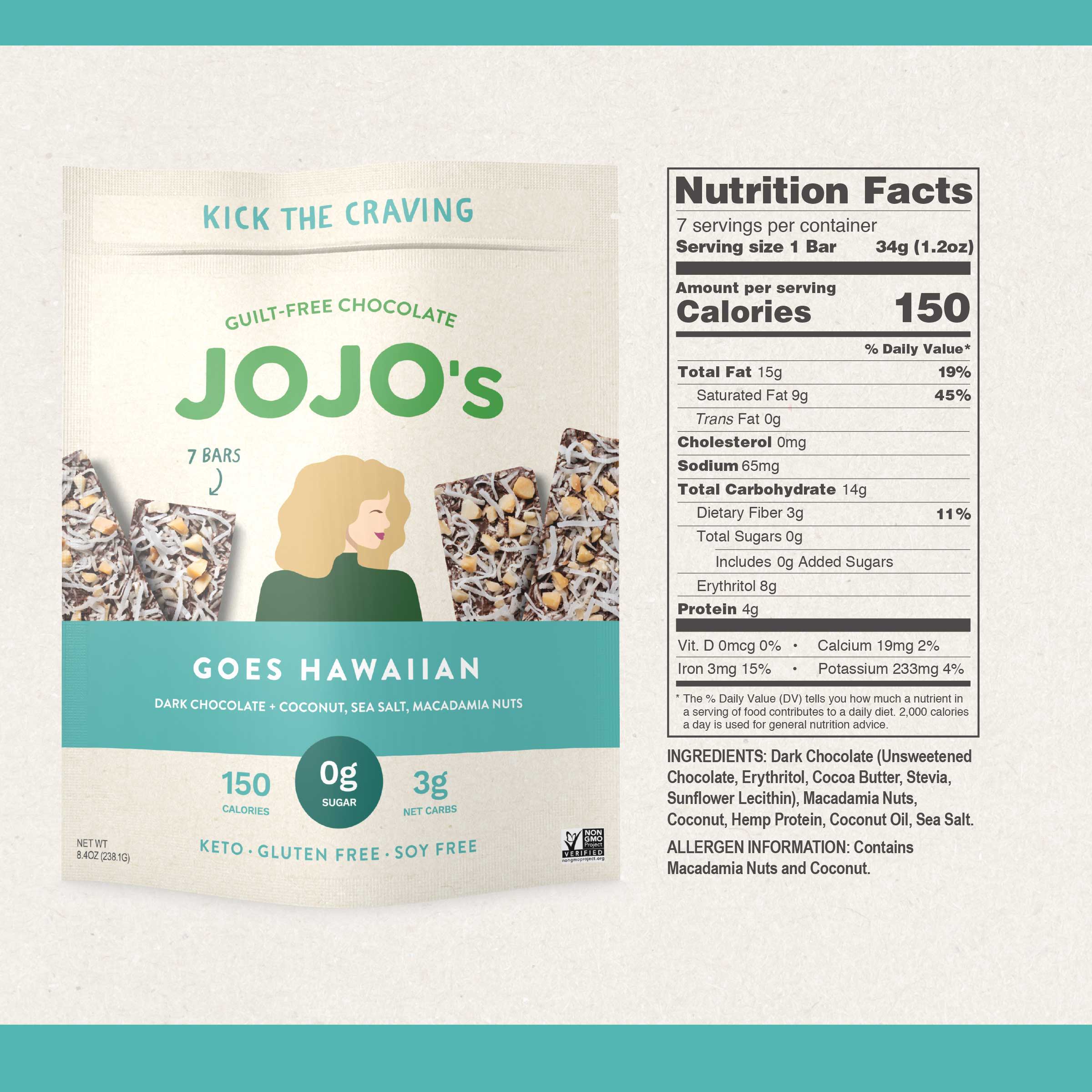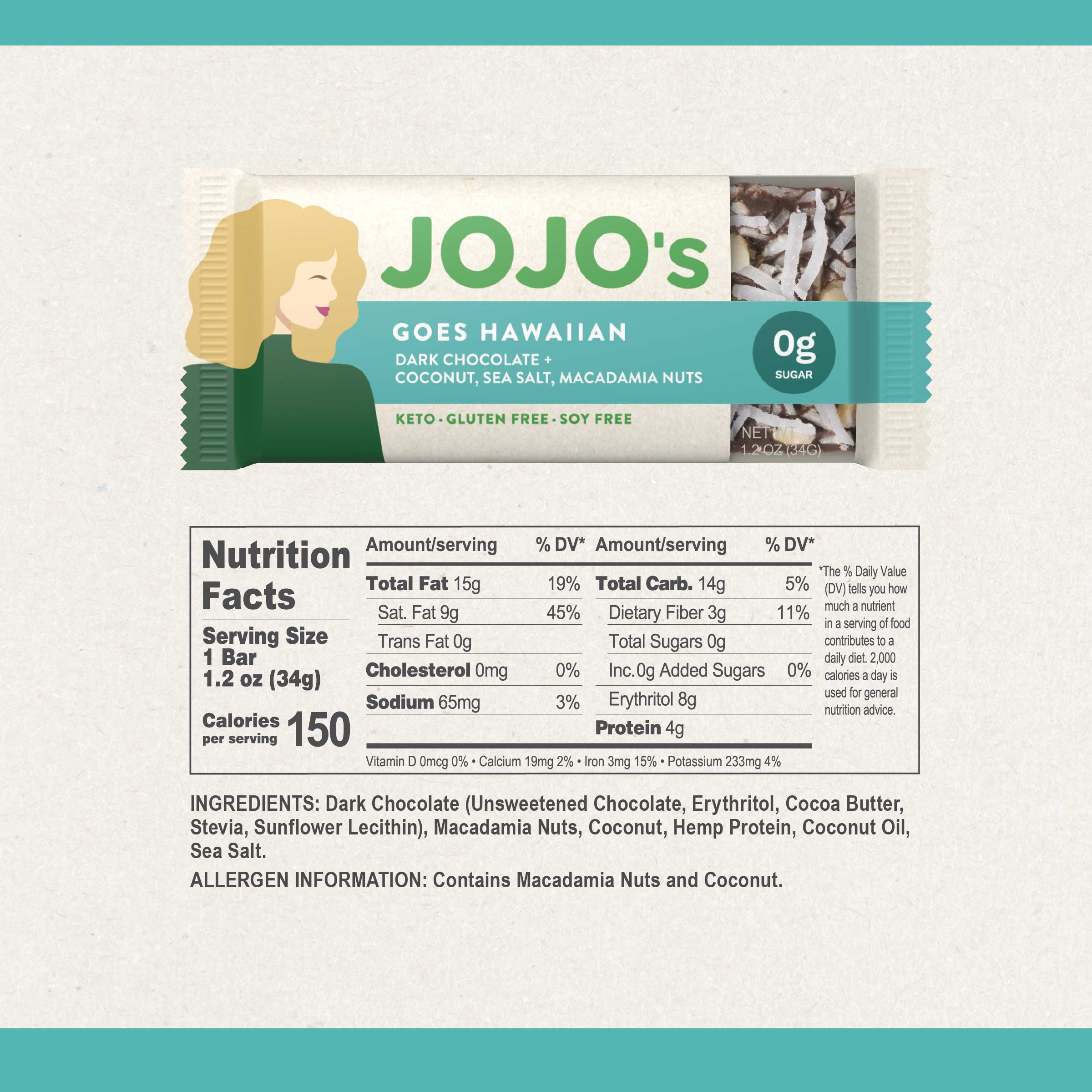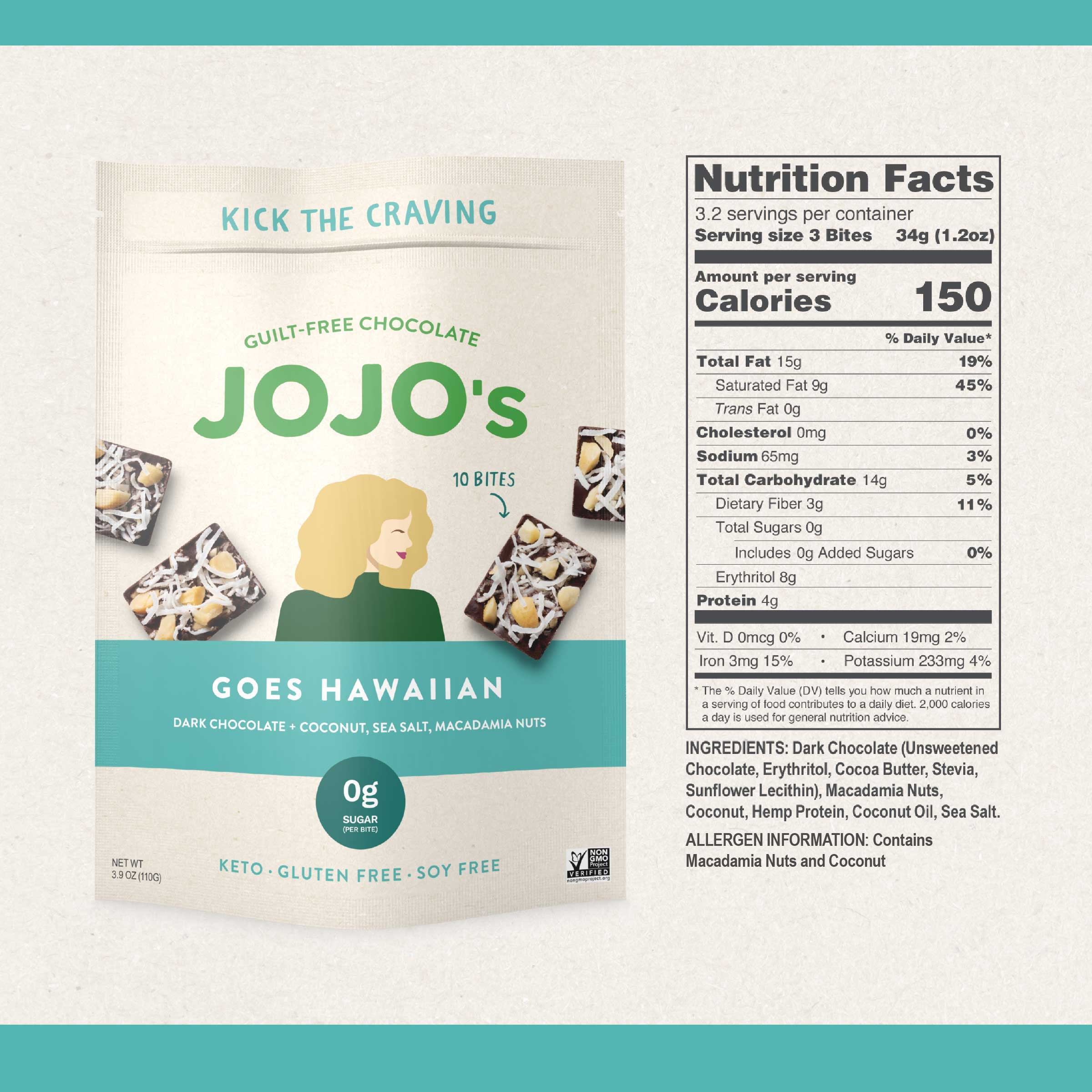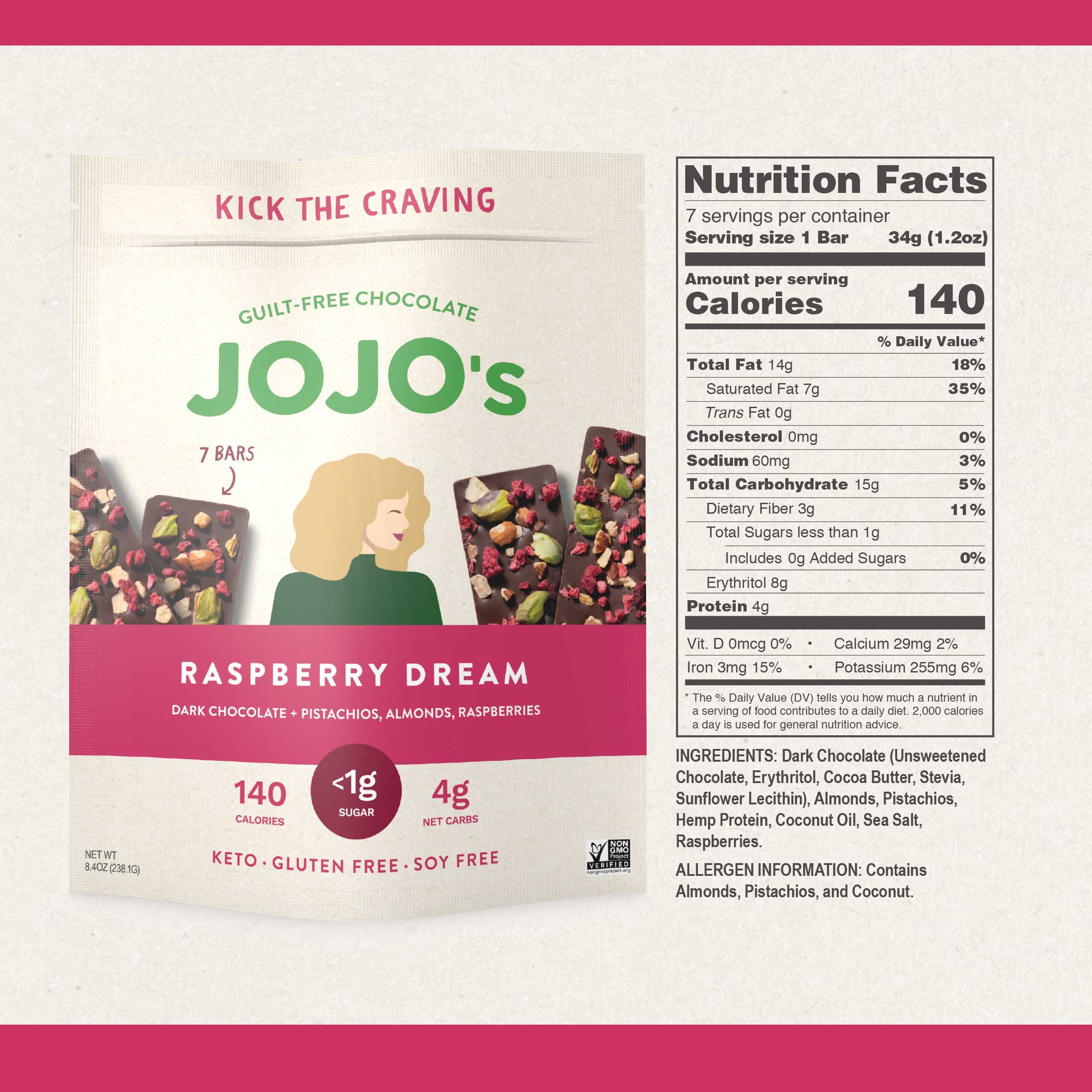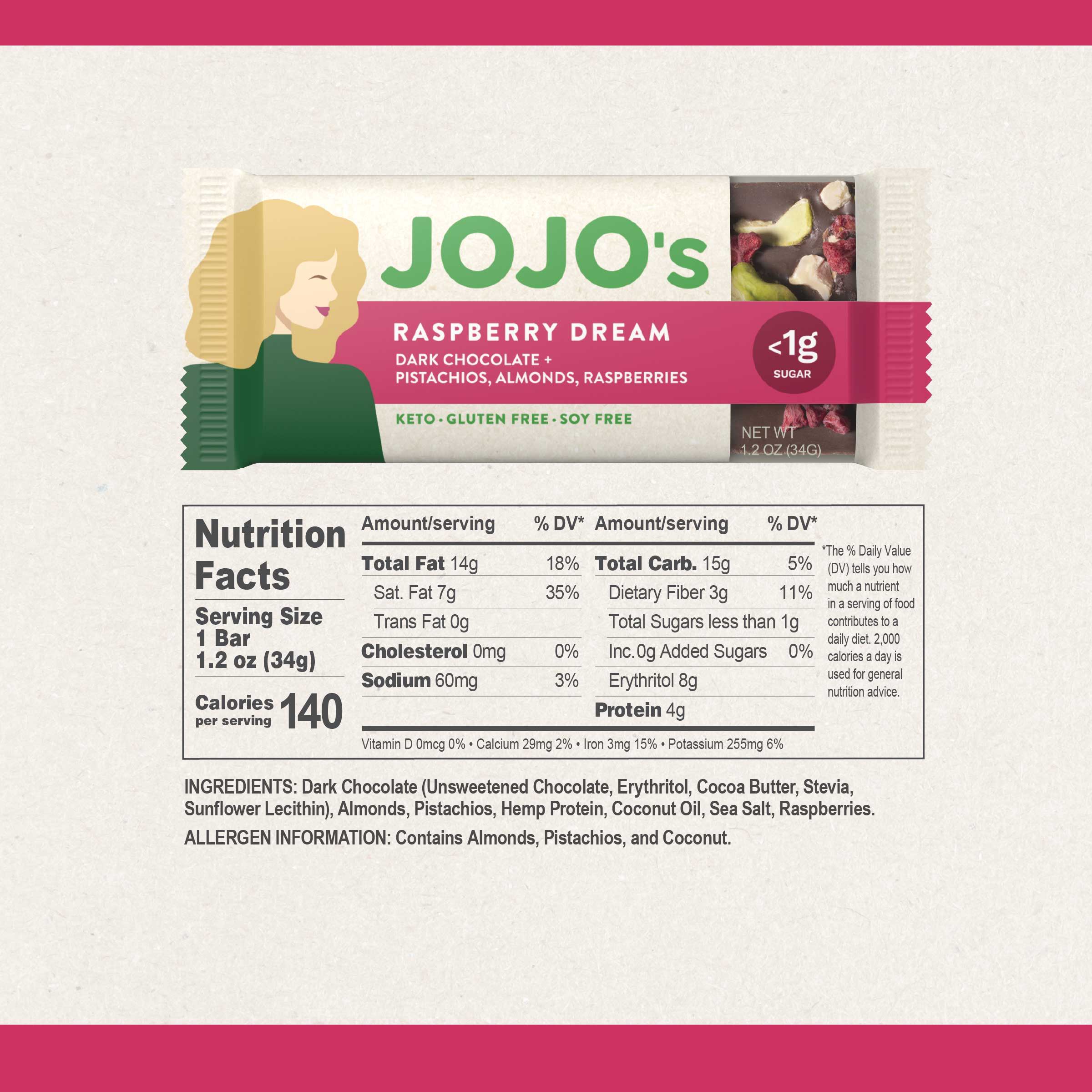 Is your product dairy free?
There is no added dairy. However, it is manufactured in a facility that makes products that contain dairy.
Yes. All of the ingredients are vegan including the protein. We are in the process of obtaining a Vegan certification to include on our new bags.
Our products are not kosher certified however our manufacturing facility is and all of our ingredients are kosher but our actual finished product is not certified.
Why, yes it is! We changed from Soy to Sunflower Lecithin because our goal is to help everyone become healthier-that's why we love JOJO's so much - it satisfies so much quicker so that you don't have those cravings that chocolate loaded with sugar wants you to have!
We now have two KETO bars: Goes Hawaiian & Raspberry Dream. They are made with the same protein as the Original and Peanut Butter and are sweetened with Erythritol, so there is no sugar. Our other bars, Original & Peanut Butter Delight are not KETO friendly.
Is JOJO's diabetic friendly?
Yes, all of our bars are diabetic friendly. Our new flavors, Raspberry Dream and Goes Hawaiian, are sugar free - sweetened with an Erythritol/Stevia blend. Please follow the advice of your healthcare provider though.
What is the protein source?
It is a plant based HEMP protein, which is one of the easier and slower digesting proteins made.
Does JOJO's contain Stevia?
JOJO's Goes Hawaiian and JOJO's Raspberry Dream, contain an Erythritol/Stevia blend. JOJO's Original and JOJO's Peanut Butter Delight are sweetened with Non GMO beet sugar.
Does JOJO's contain Monkfruit?
What is JOJO's sweetened with?
The new Raspberry Dream and Goes Hawaiian are sweetened with an Erythritol/Stevia blend. The Original and Peanut Butter Delight bars are sweetened with Non GMO beet sugar.
Are the nuts used in JOJO's raw?
The nuts used in JOJO's are dry roasted.
Will the hemp protein affect drug testing?
You would have to eat hundreds of them in a 24 hour period to affect drug testing. Which is a great thing for us, but your tummy might not like it.
How much caffeine is in a bar of JOJO's?
All chocolate contains caffeine naturally but JOJO's does not add any additional caffeine to its product. For 1 bar (1.2 oz.) of our Original or Peanut Butter Delight flavors, there is about 25.5 mg of natural caffeine. For 1 bar (1.2 oz.) of our Goes Hawaiian or Raspberry Dream flavors, there is about 20 mg of natural caffeine.
Where are the ingredients sourced from?
The chocolate used for JOJO's is imported from Germany and the cocoa is sourced from Ecuador.
Protein - Sourced in Canada
Peanuts - Sourced in Canada
Cranberries - Sourced in Canada
Raspberries - Sourced in United States
Pistachios - Sourced in United States
Coconut - Philippines
Macadamia Nuts - Processed in Canada
Almonds - Processed in Canada
Sea Salt - USA
Where is JOJO's manufactured?
It is a Utah based company, manufactured in Canada.
Depending on where you live. It is a Utah based company, with the home office in Sandy.
Other Product Specific Inquiries
Is your Chocolate Fair Trade?
Yes. Our chocolate is a 70% dark chocolate imported from Germany. It is sourced from Ecuador and we have been assured that it is fair trade.
Is your product Whole30 approved?
How many ounces is one bar of JOJO's?
My product came in white, with a weird film on it. What does that mean?
That means that it has started blooming. We will send you out another package right away, just email team@jojoschocolate.com.
Where can I buy JOJO's near me?
JOJO's is growing and popping up in new retail locations throughout the US. The best way to find out if JOJO's is in a retailer near you is to use our location search function on our website. Just enter your zip code and you can see if there is a retailer close by HERE.
Why is JOJO's so much cheaper at Costco?
There are a couple of reasons why Costco has a cheaper price. The simplest reason is Costco has a membership, bulk price item (the 14 bar Original bag) that is only sold at Costco. All other retail locations have 7 bar bags and carry other flavors (Peanut Butter Delight, Goes Hawaiian, and Raspberry Dream). Costco only carries our original flavor.
How do I cancel my subscription?
We can cancel that for you if you would like, please email team@jojoschocolate.com or you can cancel it on our website by logging in to your account. We would love your feedback on why you are canceling and if there were any issues with our chocolate.
Do we offer free samples?
We don't currently offer free samples online.
Packaging/Storage Inquiries
How does JOJO's pack their chocolate to prevent it from melting?
n summer months, we use styrofoam to keep the box insulated and a few ice packs in each box to prevent chocolate from melting.
Should I keep JOJO's in my refrigerator?
You do not have to keep JOJO's refrigerated, but it will last longer if you keep it cool. Try it frozen! Yummy!